Explore real lakes and land North America's top fish in an authentic fishing experience this fall!
MINNEAPOLIS – August 24, 2017 – GameMill Entertainment has revealed Rapala Pro Series, a new fishing game coming this fall for the PlayStation®4 computer entertainment system and Xbox One. Compete in a far-reaching series of tournaments across North America to build your reputation and become the next Rapala Pro Angler!
An authentic experience featuring real lakes and officially licensed Rapala equipment, Rapala Pro Series takes players on the hunt for dozens of the sport's top fish species. Navigate six sprawling environments with GPS, track fish with the fish finder, and master what lures and tackle work best to land each prey. Then use your winnings to purchase new and better boats, reels, poles, apparel, lures and lines.
Rapala Pro Series delivers a destination fishing adventure with picturesque views of North America's top lakes both above and below water. Explore each living environment by boat, choose where to cast your line and complete a variety of challenges to take your career further. There's also a Free Fishing mode for pick-up-and-play gaming, as well as global leaderboards and daily online challenges to compete toward.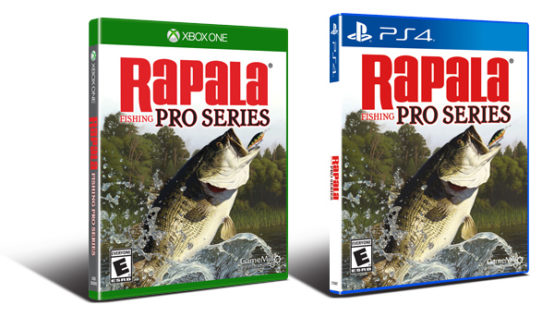 About GameMill Entertainment
GameMill Entertainment, located in Minneapolis, Minnesota is a third-party publisher of casual games for the mass market consumer. Development platforms include PC, Nintendo handhelds and consoles including Nintendo 3DS™ , Wii™ and Switch™ Microsoft consoles including Xbox One® and Xbox 360® video game and entertainment system, XBLA, Microsoft Games On Demand for Xbox One® and Xbox 360®, and Sony consoles including PlayStation®3 and PlayStation®4 computer entertainment system, PlayStation Network™ and Mobile & Tablet devices. With development across the globe, GameMill is a source of entertaining and fun games for all ages. For more information, please visit: www.game-mill.com.
About Concrete Software
Concrete Software, Inc. has been developing rock-solid games™ since 2003 on platforms include XBox One®, PlayStation®4, PC, AR/VR devices, and mobile. Award winning games include PBA® Bowling Challenge, Rapala® Fishing – Daily Catch, Arctic Cat® Extreme Snowmobile Racing, and many more. For more information on Concrete Software, please visit concretesoftware.com or facebook.com/ConcreteSoftware.
About Rapala
Rapala was unofficially founded in 1936 when Lauri Rapala invented the Rapala fishing lure. Rapala has grown from humble beginnings to become a market leader in the fishing tackle industry. The brand's functionality and high quality are known by fishermen worldwide. Rapala maintains its strict standards of craftsmanship while delivering its fishing products to anglers in more than 130 countries. For more information on Rapala, please visit www.rapala.com or www.facebook.com/RapalaUSA or www.instagram.com/rapalausa
Media Contact
Amanda Young Curtis
Sandbox Strategies for GameMill Entertainment