Concrete Software has been making virtual worlds in our games for years. This skill has allowed us to easily transition into the booming market of virtual and augmented reality. We work with all different sized companies to help with their VR/AR needs. View our projects below and contact us today to see how we can help you!
Laptop Component:
We partnered with 3M to create a virtual and augmented reality experience demonstrating the 3M-related components of a laptop computer. The experience guides users through the simulation with both visual and audio feedback. We created a system that would allow different experiences to be delivered to the hardware through remote distribution based on identifying codes. Analytic data collection was integrated into the software in order to analyze user interactions to educate further updates to streamline delivery of information.
Worked with 3M to create demonstration of use for augmented reality

Compatible with multiple hardware platforms

Created a useful tool for explaining 3M's hardware components

Cloud-distributable experience to hardware

Built with insightful analytics for customer usage investigation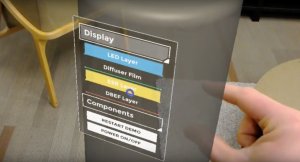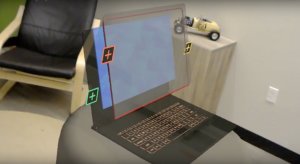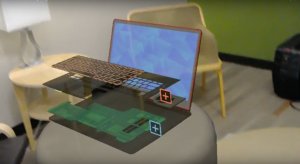 360 Image VR:
Client-requested demonstration implementing 360 degree image in a virtual reality space. The request also included the ability to interact with static images and 3D elements in the environment. Utilizing analytics to inform us of user interaction including a heat map of gaze focus.
Created a 360 image of environment

Integration of interactive 3D elements to be inserted into 360 image in VR space

Features visual-tracking heat map and other useful analytics
HapStick
Our mission was to create a physical feedback system to help enhance virtual reality experiences. Building off of one of our successful products and created a device that would provide a physical sensation to a specific action in the simulation. This device was able to interpret the signals remotely and in real-time.
Integration of a physical object as a controller in the VR experience

Combined VR with real, physical feedback

Created hardware to provide physical sensation to VR activity
Virtual Walkthrough
Created a virtual walkthrough of our Edina, MN office using Google SketchUp and Unity. Focused on simplicity, speed, and efficiency of development.
Used easily accessible tools to create geometry for virtual office walkthrough

Focused on simplicity and speed of development
Brick-Breaking Demo
A Breakout inspired game developed for VR. Players use the controller to simulate a paddle and attempt to break the wall of bricks using a bouncing ball. Accurate physics create a compelling game and an engaging experience.
VR interactive entertainment platform

Set in an engaging virtual environment

Naturalistic and intuitive physics and interactions