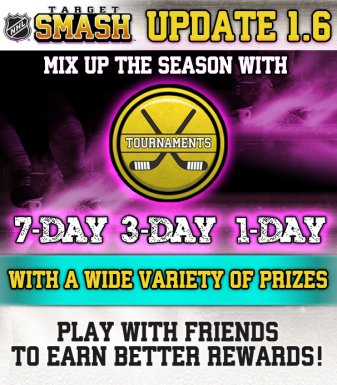 MINNEAPOLIS – May 5, 2016 –
Concrete Software has updated NHL® Hockey Target Smash. NHL Hockey Target Smash is meeting the challenge of the Stanley Cup® Playoffs with a brand new lineup!  Huuuge changes will make the game faster, more challenging, more fun, and more fair — all with an insane amount of stuff going on!
First off, we've taken the incredibly successful Team Play feature to all new level that we now call Tournaments. Instead of only one week seasons there will now be 7-Day, 3-Day, and 1-Day Tournaments with a wide variety of prizes.
We've also added a "Friends" Team in the new Tournaments where you can bring Friends into the game and compete in Tournaments with them. The more friends you have in the game, the better the Tournament prizes!
We've also implemented a huge sale on most items in the game that will last for the entire Stanley Cup® season!
NHL Hockey Target Smash is faster, more fair, and more fun with periods now lasting :20 seconds, zippier in-between transitions, an overhaul of the game's AI difficulty level, and a rebalanced Mercury Puck to make the game more fair. Now, for each period the Mercury Puck is used, the player starts with a streak of 20.